Not many universities have a staff dedicated to American Indian students, but UCR does. UCR respects all identities, cultures, and backgrounds, and provides the people and resources to help you succeed. We are here for you, and welcome you as part of our UCR family. Stop by 229 Costo Hall to say hi.
Joshua Gonzales (Xictlaka), M.B.A., Director
E-mail: joshua.gonzales@ucr.edu
Josh earned a B.S. in business administration from UCR in 2004, and an M.B.A. from the University of Phoenix in 2007. He began working at UCR in 2005 as a program assistant, and started his duties as director of Native American Student Programs in 2009. He is also a member of the University of California American Indian Counselor Recruiter Association. Josh enjoys cultural ceremonies and gatherings, running, sports and learning from others. He is particularly interested in learning more about his Native language. He lives in Riverside with his wife, son and daughter.
---
Beyaja Notah, Program Coordinator
E-mail: beyaja.notah@ucr.edu
Beyaja earned a B.A. in Native American Studies from UCR in 2010. As the program coordinator for NASP, she is dedicated to providing access to educational opportunities and resources for Native students and community members. Passionate about education and community empowerment, Beyaja considers it her privilege to work at UCR with students and professionals representing all ages and indigenous communities. She approaches her work with the Native community at UCR using a collaborative community-centered approach. Beyaja is a proud member of the Diné Nation (Navajo). She is a member Tábąąhá (Edge of the Water) and Tódích'íi'nii (Bitterwater) clan on her father's side. On her mother's side Beyaja is Cherokee, English, Irish, and Welsh.
---
Brenda Batt, Administrative Assistant
Email: brenda.batt@ucr.edu
Brenda started working at UCR in January 1999. She is the administrative assistant for NASP and for Asian Pacific Student Programs, and is also a volunteer for the UCR Staff Assembly. She is mother of two wonderful young men and various furry creatures. In her spare time she enjoys golf, cooking and reading.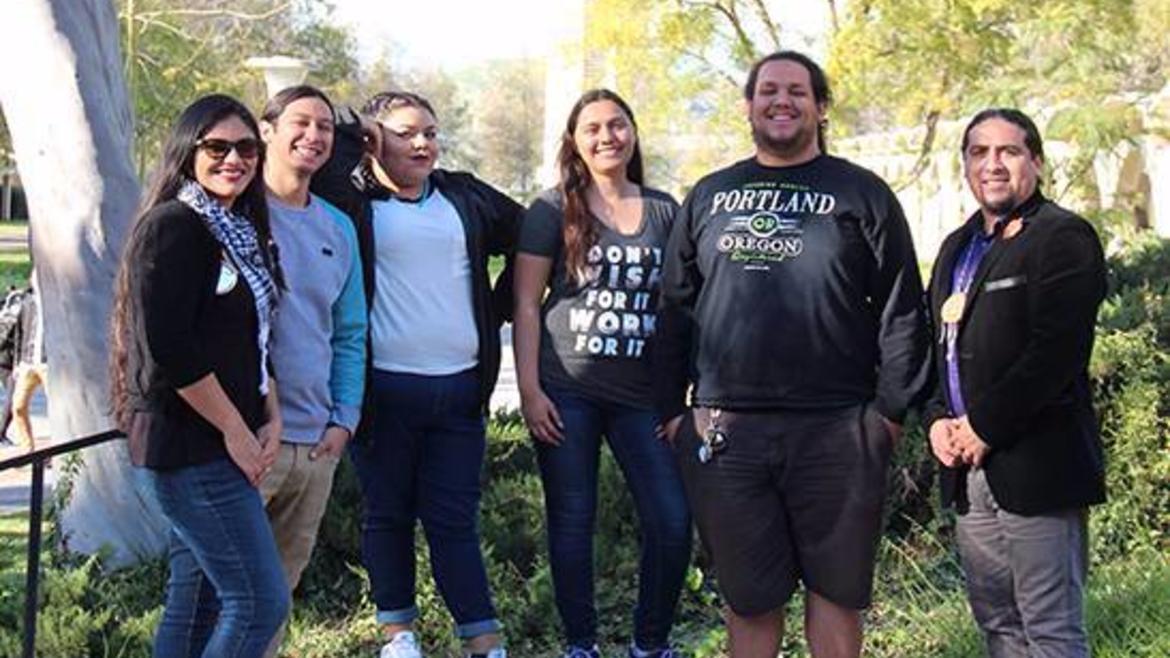 Sara M. Medel, Student Assistant
Sara is a fifth-year student majoring in Business with a concentration in Marketing. She is of Pomo, Miwok and Yuki descent. For three years she was the treasurer of the Native American Student Association (NASA) and a member of Circle K. She likes preparing for big events such as the Medicine Ways Conference and Gathering of the Tribes Summer Residential Program. When she's not busy with school or work, Sara enjoys making crafts, fiction writing, and the performing arts.
---
Jordan Thomas, Student Assistant
Jordan is a fourth-year student majoring in Sociology. She is a tribal member from the Northwest tribe known as the Lummi Nation. She is the Native American Student Association Secretary, the California Indian Nations College Foundation Board of Trustees Secretary, a History Department Jr. Associate, and is one of the four Native American Student Programs Student Assistants. Jordan also dabbles in music, playing 17 instruments and performed with the UCR concert band as the solo oboist. She lives on coffee and loves being an active member in all of her works at UCR.
---
LeeAna Espinoza Salas, Student Assistant
LeeAna is a third-year student majoring in Media and Cultural Studies. She is a descendant of the Cahuilla tribe of Southern California and enjoys working closely with her Native community. Aside from being a student assistant with Native American Student Programs, LeeAna is Co-Chair of the Native American Student Association, and enjoys planning and participating in the ongoing events hosted by both NASP and NASA.
---
Raelyn Castillo, Student Assistant
Raelyn is a third-year student majoring in Neuroscience. She is an Apache descendant who looks forward to discovering more about her Native American heritage. She is involved with the Native American Student Association, and treasurer of the American Indian Science and Engineering Society. On her free time, Raelyn loves to dance, play softball, and sing at her church. Her ambitions include becoming more familiar with her Native culture, and to graduate as a Native American female in the Science field.
---
Joaquin Malta, Student Assistant
Joaquin is a second-year student majoring in Psychology. He is a member of the Navajo tribe of the Táchii'nii clan born for Naakaii. He is the secretary for the Native American Student Association as well as the Vice President for the American Indian Science and Engineering Society. Joaquin loves to get involved on campus and in the community any way he can. In his spare time, he can be found either at the gym or on the court playing soccer or volleyball.