Due to the impact of COVID-19, our Ethnic & Gender campus locations are closed until further notice. Our staff is working remotely and available to support you along your Highlander journey. We look forward to being back on campus and supporting you in-person. Please continue to wash your hands, wear a face covering, and maintain physical distance.
Provides educational, cultural and social support for American Indian students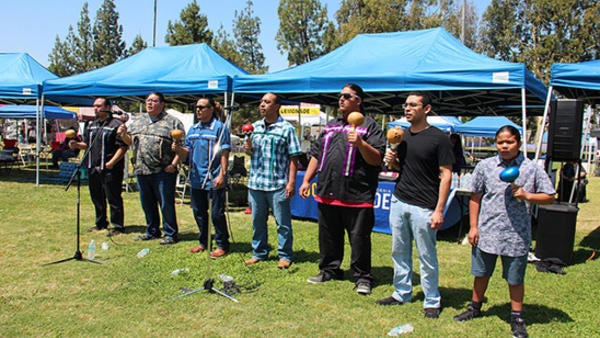 *CANCELLED*
To our NASP community, family, and friends,
We here at UCR hope this message finds you well and in good spirits in these tumultuous times we are currently facing with COVID-19 (Coronavirus). With the rapidly changing situation across California, and worldwide, we all are experiencing new challenges and obstacles daily.
The Riverside County Public Health Officer revised a public health order, which in turn extended UC Riverside's originally scheduled campus closure from April 3rd to April 30th. Along with this extension, class instruction for our Spring Quarter is moving online.
Prior to this announcement, we here at Native American Student Programs held hope that we would be able to welcome you and host the 39th Annual UCR Pow Wow. Unfortunately, we now realize this is not a possibility in our current climate and must cancel. Although many have worked tirelessly to prepare this event and were excited to see it come to fruition, community safety and health are paramount. Especially for our Elders and youth that would be in attendance.
We sincerely thank all of those that have given their time and effort in preparation for this event, as well as your consideration for attending. We hope you will stay in contact for future opportunities and updates when they arise.
NASP continually wish you good health and hope to see you in the near future. 
University of California, Riverside
Riverside Sports Complex
1000 W. Blaine St. Riverside, CA 92507
Parking is located in Lot 26 Enter on Rustin Ave.
*Admission is Free & Open to the Public*
 All Dancers, Drums, and Bird Singers Welcome!!!
The annual UCR Pow Wow is an inter-tribal social gathering celebrating Native American culture and traditions through singing, drumming, and dancing. Traditional Native American dancers, drum groups, bird singers, and other artists will be present, and vendors will sell food, handmade Native American jewelry, arts and crafts, and other merchandise.
Arts & Crafts Vendor Application CLOSED
We would like to thank our sponsors:
    ▪    Native American Student Programs
    ▪    Native American Student Association
    ▪    UCR Rupert Costo Endowment Chair
    ▪    Highlander Empowerment Referendum
    ▪    UCR Native American Education Program